*** The Clan Carmichael International Gathering had been postponed to June 2022 ***
To view preliminary details of the Clan Gathering in 2022 and to book your spot please place a  deposit on our secure site.
The 12th Clan Carmichael International Gathering 
Monday June 29th to Friday July 3rd 2020
The latest in a series of International Carmichael Gatherings – each organised by Chief Richard and his family since 1983 will be held at Carmichael Scotland in late June early July 2020. Previous gatherings have been held at the rate of three a decade and this year's event will be the third hosted by Chief Richard with son Andrew, supported by Lady Patricia, daughter Sarah and grandsons Fraser & Aidan.
As well as marking the new decade ahead for the Clan the Visit Scotland theme this year will be to celebrate the year of Scotland's magnificent Coast and Waters. We have created a busy and exciting program that will keep everyone enthralled.
The schedule is subject to change as arrangements become formalised.
 PRE-ARRIVAL DAY SUNDAY JUNE 28TH
(Please note this day is not included in the Gathering pricing) 
Church Service Carmichael Parish Church Community and Clan
Traditional Sunday Lunch in Carmichael Bistro
Afternoon & evening to rest and relax, shop in the Carmichael Clan Shop or climb Tinto Hill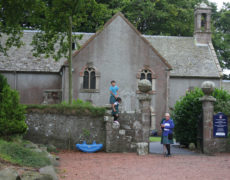 MAIN GATHERING SCHEDULE
Monday June 29th                   Arrival Day     
Uplift from Edinburgh and Glasgow airports with deliver to your Clan lands accommodation or hotel
Official Opening of Clan Gathering 2020 at the Welcome Dinner
Tuesday June 30th                  "Coasts" Day
A celebration of the Carmichaels of Dundee
Tour the magnificent coastline of the East Neuk of Fife
Visit Scotland's youngest distillery
Dine out in a castle
Wednesday July 1st                 Carmichael Day
March to source of the Carmichael name
Clan Speeches at Castle Caput of the barony
Enjoy a Carmichael Estate Farm Meats BBQ Lunch
Participate in the Clan Carmichael Mini Highland Games
Dance the night away at Clan Ceilidh and Tartan Ball
Thursday July 2nd       "Waters" Day
Visit the Falls of Clyde
Lunch out and afternoon tour in the West of Scotland
Dress up for the Clan Gathering Gala Dinner
Friday July 3rd             Farewell Day
 Enjoy your final Carmichael Breakfast Club
 Transfers to Edinburgh and Glasgow
Pricing: As with all our previous events the 2020 international gathering is priced fully inclusive of all transportation, meals, entry fees, banquets, tartan balls, taxes at 20%, gratuities and accommodation for all four nights at £690 per person. Children 8 years old and under sharing a Clan lands cottage receive a 1/3 discount – £460 per child. Single cottage supplement £50.  If you would like to stay in a local hotel instead of a Clan lands cottage there is a supplement of £150 per person. Cottage reservations are on a first come first served basis.
If you would like pre-arrival day support please ask.
For those wanting to join the gathering for a lesser period and arrange their own travel and accommodation the cost for attending the Carmichael Day on Wednesday July 1st including BBQ lunch & Ceilidh dinner is £75.
A deposit of £150 per person is due to secure a place at next year's gathering.  The deposit is non-refundable. You must insure yourself for any possible reason you may have to cancel. The final balance is due April 30th 2020 and this is fully refundable for cancellation by June 1st.  Non-refundable thereafter.
Please follow this link to our secure shopping cart to book you place